ANKH CROSSES WITH CHAROITE
480 PLN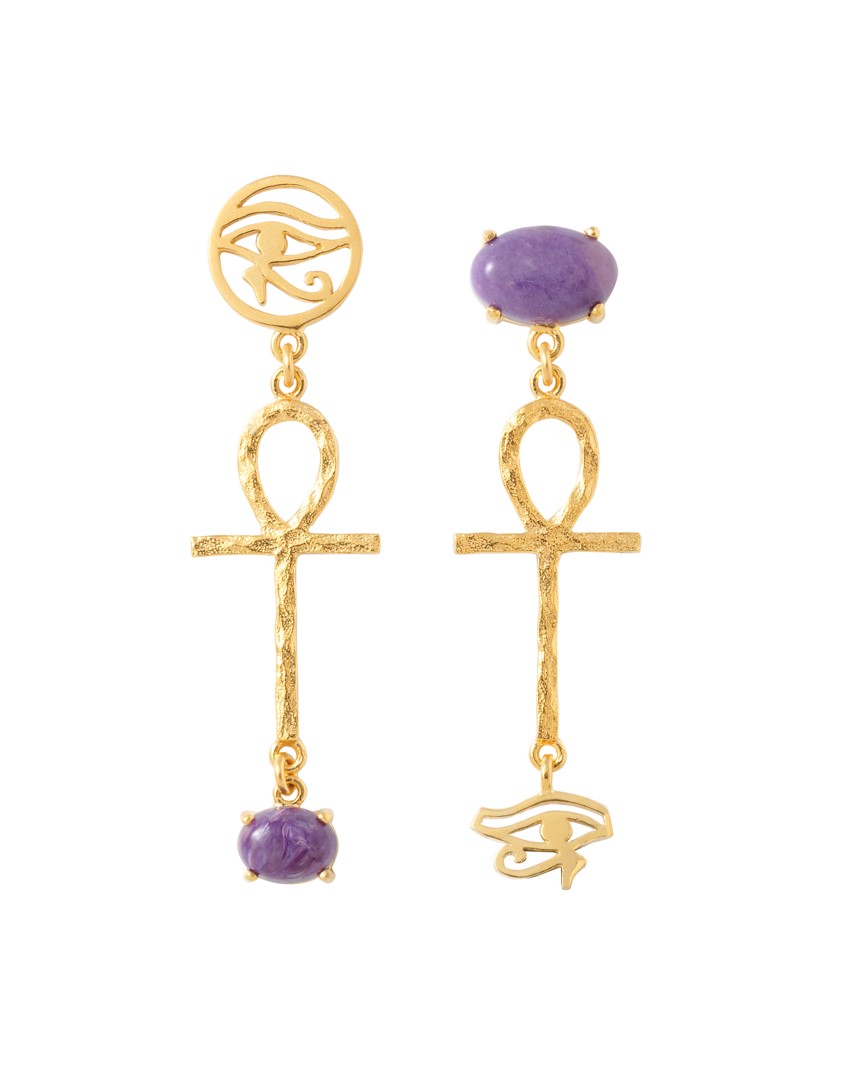 Handmade dangle earrings in sterling silver, with Ankh crosses, the Eye of Horus and inset charoite stones.
– Material: 925 silver gilded with 24-karat gold, charoite.
– Earring's size: height – approx. 5.5 cm, width (cross) – 1.5 cm.
###
The Ankh Cross – life-giving arms. One of the most powerful symbols of life, its strength and the ability to bestow it. Good energy emanating from inside it guarantees strength, fortitude and health. Due to its shape, which might bring to mind the female womb, the Ankh symbol is by many considered a talisman of fertility and the ability to give life. Placed at the noses of dead pharaohs, it symbolized the breath of life which was to be offered to them by gods in the afterlife. In a word, the Ankh means life and all its strength, the eternal life that never goes away. It can only move from this world to the other, but never leave completely.
The Eye of Horus – guardian of health and safety. The eye that was lost and restored. Lost by the god Horus during his victorious battle for Egypt fought against Set, it was then viciously dealt with by the defeated opponent, who shattered it into pieces. Although critically injured, it was miraculously healed, regaining its shape and sight. Thus, the eye of Horus became a symbol of healing, becoming whole again. It is also a strong talisman warding off danger and all evil.
The Eye of Horus symbol was also used by Egyptian physicians to represent fractions of ingredients needed in the preparation of healing potions, which strengthens its importance as an amulet protecting health and strength, since those are two of the things guaranteeing a sense of safety.
Charoite – a stone of clairvoyants. It was named after the Siberian river Chara, near which it was discovered and where the only deposit in the world is located. Charoite has a dual effect on its wearer. On one hand, it firmly grounds them in "here and now", on the other, it helps raise Earth energy to the crown chakra, making it possible to get infused with "divinity". Its nature makes everyday matters mix with the "divine" and "higher" ones, as if we were participants of both those worlds at the same time.
Charoite helps in getting to honestly know ourselves, which in turn allows us to grow and develop, both by expanding our field of consciousness and by getting rid of whatever disturbs us and causes negative feelings.
It is a stone of clairvoyants, those who see clearly – or honestly, honestly with themselves. And that is the first step if we want to take up the challenge of personal growth – the real one, which leads us where we truly want to be. If we accept its hardships and see them as part of the road to the goal which is worth much more than the effort to overcome them, that is. Because there is no game more important in life than playing for yourself and the truth about yourself.

RRSO 0%
Order fulfillment: up to 14 business days
Our jewelry is handmade - what does it mean?
How to take care of our jewelry?
Payment methods & shipping